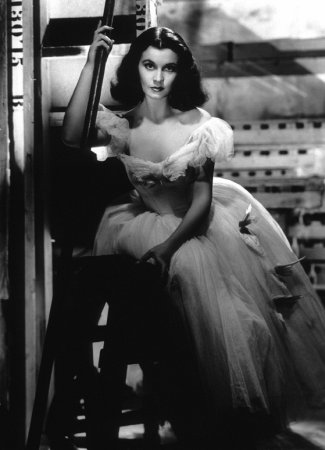 Although Vivien Leigh's Christian name often be misspelled by journalists, it was never too cardinal an error since the marvelous actress had actually been christened Vivian Hartley shortly after her birth in Darjeeling, India, on November 5th, 1913. Like Scarlett O'Hara, Vivian had a partial Irish, French and Roman Catholic heritage. She was educated, as a child, in convents in England after her family returned her there in 1920.
The young Vivian showed enthusiasm for performing as early as her seventh year and soon thereafter decided to become an actress. Quite in her accordance with this, she enrolled in the Academy of Dramatic Art directly upon completion of her formal schooling in London and Paris. An early marriage to english barrister Herbert Leigh Holman in 1932 and motherwood late the following year interrupted these studies. Yet within another year Mrs.Holman had successfully entered the British film Industry, making her debut with a minor role in a comedy about a girls' school entitled "Things Are Looking Up". And with this new career came an even more significant change: Mrs.Holman changed the spelling of her name to Vivien and adopted her husband's middle name, Leigh, as her professional one.

The London film colony was not too devasted by young Vivien Leigh in 1935, although she did secure parts in three more films, "The Village Squire", "Gentleman's Agreement", "Look Up and Laugh". However, after obtaining an important stage role in "The Mask of Virtue" and receiving highly favorable reviews, ahe attracted the attention of famed producer Alexander Korda, who placed the twenty-two-year-old actress under contract to London Films and cast her as a lady-in-waiting in "Fire Over England", a historical drama of Queen Elizabeth I. Vivien came to know another cast member, Laurence Olivier, at this time and one of the more famous love stories of this century had its beginning. Three more films for Mr.Korda followed: "Dark Journey" with Conrad Veidt, "Storm in a Teacup" with Rex Harrison and "The First and the Last", with Mr. Olivier. The last of these was completed in 1937 but, for one reason or another, was not granted a general release.


But Vivien could not be too concerned with that small disappointment since her Korda contract allowed outside stage work, her friendship with Laurence Olivier had become romantic reality and Metro-Goldwyn-Mayer was seeking her services. That mammoth America enterprise had set up studio facilities in Denham, England, and the first film there was "A Yank at Oxford", starring Hollywood's Robert Taylor. Although cast in a supporting role, Vivien made the most of her vixenish assignment as an unfaithful wife, realizing that this film would receive more worldwide exposure than any of her previous movies had. And there was another, more hidden reason. A book had been published in England in late 1936 -- following its phenomenal acceptance in the United States -- about a young woman's struggle throughout the American Civil war. A motion picture version would soon be made and the leading role was one that many determined actresses were praying for.


"A Yank at Oxford", released in early 1938, received the attention and reviews Vivien had hoped for and did, by no means, go unnoticed by producer David O. Selznick. Another Korda loan of her services to Charles Laughton's Mayflower Productions (with release by America's Paramount Pictures) for "St. Martins Lane" gave Leigh further opportunity to show her talents in a selfish, unsympathetic role. When the announcement was made in early 1939 that England's Vivien Leigh would portray Scarlett O"Hara in Gone With the Wind, this Laughton film (retitled "The Sidewalks of London" in America) was the most referred to in identifying the foreign actress to her new country of admirers.


Gone With the Wind would bring Vivien Leigh an Academy Award and, within the next years, roles in two distinguished films: "Waterloo Bridge", again with Robert Taylor, and That Hamilton Woman, once more with her love Laurence Olivier, who was by then her husband. Their 1937 film even found release at this time under the new title "21 days Together". Mr. Olivier was knighted in 1947, and for the next decade -- until their marriage anded -- Vivien Leigh would be known in her homeland as Lady Olivier.
There would be only more six films in the years left to Vivling (as her friends called her), "Caeser and Cleopatra", "Anna Karenina", "A Streetcar Named Desire", "The Deep Blue Sea", "The Roman Spring of Mrs. Stone" and "Ship of Fools", but one of them, "A Streetcar Named Desire", in which she once again played an American Southerner, would bring her into the select circle of performers twice honored by Hollywood's Academy. However, there was a vast amount of stage work, including much with Sir Laurence Olivier, and a Broadway "Tony" Award. There was illness too, both physical and emotional, dimming perhaps the body's ability but never the spirit. In her later years Vivien leigh publicity expressed some doubts about her most famous assignment, fearing that perhaps Scarlett O'Hara had become an identity too great to escape from. Privately, however, were never any real regrets.
Vivien died on July 8th, 1967.