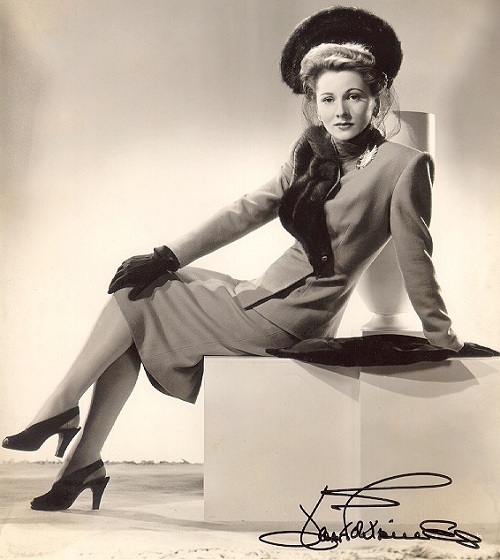 Joan Fontaine was born Joan de Beauvoir de Havilland on October 22, 1917 in Tokyo, Japan on the site where now stands the Okura Hotel. Her father, Walter de Havilland, was a patent attorney and professor of English and French at the Imperial University, while her mother, Lilian Ruse, a graduate of the Royal Academy of Dramatic Art in London, had taught music at the University of Reading, England.

Mrs. de Havilland brought her two daughters Olivia and Joan to the United States at an early age and settled in Saratoga, California. There Joan studied painting, dramatics, music and ballet along with her school curriculum. At fifteen she returned to Japan and attended the American school of Tokyo.

Upon her return to California, she was introduced to May Robson, and her career began playing the ingnue in Kind Lady with that venerable actress. Soon followed a similar role in Call It a Day with Violet Hemming and Conway Tearle. It was on opening night in this play at the Dufy theatre in Hollywood that she was seen by Jesse Lasky, the prominent movie producer who, going backstage to her dressing room, immediately arranged to sign her to a long-term film contract.

After brief parts in films with Joan Crawford and Katharine Hepburn, she took the name Fontaine on the advice of a fortune teller and starred in a series of "B" films which gave her, she feels, better training and experience than all the dramatic classes she had attended in Hollywood.

At a dinner party at Charles Chaplins Miss Fontaine sat next to a gentleman discussing literature. After saying she had just read Daphne du Mauriers Rebecca, which she thought would make a fine film, her dinner partner introduced himself . . . David O. Selznick said hed bought the book that week and would Miss Fontaine like to test for the role of "I" de Winter? Indeed she would, and after seven tests and many disappointments, she finally landed the coveted part which had been tested by Hollywood luminaries such as Loretta Young, Vivien Leigh, Susan Hayward and Geraldine Fitzgerald.

Rebecca won the Academy Award in 1940, giving Miss Fontaine her first Academy Award nomination, plus the New York Motion Picture Critics Award, as well as the Canadian Film Critics Award.

In her next film, Suspicion, also directed by Alfred Hitchcock, she won the prized Oscar, while The Constant Nymph, made the following year, gave her another Academy Award nomination. She was the youngest leading lady to ever win an Oscar.

During her many years in Hollywood, Miss Fontaine made over 45 films. As well as those already mentioned, her best known are The Women, Jane Eyre, This Above All, Island In The Sun, Tender Is The Night and September Affair. Letter From An Unknown Woman, starring Louis Jourdan, directed by Max Ophuls, from a story by Stefan Zweig, was made by Miss Fontaines own film company Rampart Productions, and has become a classic as have several of her other films.

She had the good fortune to play opposite such notable leading men as Laurence Olivier, Cary Grant, Orson Welles, Warren Beatty, James Stewart, Robert Ryan, Fred Astaire, Paul Newman, Douglas Fairbanks, Jr. and to be directed by Alfred Hitchcock, George Cukor, Max Ophuls, Fritz Lang, Edmund Goulding, George Stevens, and Elia Kazan.

In 1954 she came to Broadway in Tea And Sympathy with Anthony Perkins. Since then, her career has been largely focused on the theatre in such plays as Private Lives, Blithe Spirit, Forty Carats, Cactus Flower and Lion In Winter.

She also found time to appear in TV films and Dinner Theatre, lecturing in universities and womens clubs on such subjects as HollywoodThe Golden Years, The Romance Of Elizabeth Barrett And Robert Browning: Their Poems And Letters, Now Is The Best Time Of All, America: Three Centuries Through The Words Of Her Women Poets and The China Experience. She received an Emmy nomination for her cameo role on T.V.s Ryan's Hope in 1980.

Miss Fontaine lived in New York Citys East Seventies for many years and now resides in Californias Carmel Highlands. When not acting and lecturing, she devotes her time to travel, writing, and needlepoint. She was a pupil of the Cordon Bleu Cooking School and likes to entertain, while her outdoor activities include fishing, sailing and golf (she is proud of her hole-in-one trophy won at Californias Cypress Point Club and another at Carmel Valley). She was a licensed pilot and a member of the winning team in an international balloon race over Holland, has ridden to hounds in Ireland and America. She is a recipient of the Eleanor Roosevelt Humanitarian Award, and a Vice President Emeritus of the Episcopal Actors Guild of America, Inc. Along with her family, she is listed in Burkes Landed Gentry under her maiden name. The Joan Fontaine Show was viewed on national TV cable networks for over ten years.